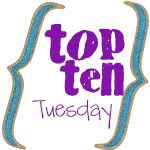 My Top Ten Favorite Blogs (written by bloggers I don't know IRL) As always, these are in no particular order.
First off, I must add a disclaimer that my favorite blog is actually a vlog. I didn't add it here because there is too much explaining. Soooo, I wrote a whole separate post for it
here.
1.
Confessions of a Pioneer Woman
- if you don't follow Ree Drummond yet, it's about time you did. She's an excellent writer, photographer and cook.
2.
Wickstrom Adventures
- I was drawn in by her American Idol horrible outfit recap each week! Hysterical!
3.
Sexy People
- a celebration of the perfect portrait. I am sooo tempted to send in my 6th grade pictures...
4.
Health Begins with Mom
- The author is the sister-in-law to someone I went to high school with and now I'm hooked. I'm taking baby steps!
5.
Dispatches from the Island
- Jorge Garcia's blog- LOSTIES will enjoy this one
6.
Cake Wrecks
- Clever writing mixed with hidious cake design!
7.
Jennsylvania
- I am about to start her second book. Amanda bought it for me and had it SIGNED BY THE AUTHOR!
8.
Stuff White People Like
- comedy at it's best
9.
Laila Blogs
- I don't even know how I found Laila- perhaps she found me. She's a 26 year old woman who lives in the UAE. I'm all about mediteranian food. I've tried a few of her recipes and they are yummy! She has a recipe request section and recently made a recipe just for me!
Kibbe Balls
10.
The White House Blog
- I'll admit that I certainly don't read them all- they post often-but I am able to read about things I'm interested in. I love how our government has finally joined the 21st century!