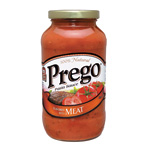 I shop at Aldi's and I'm not afraid to buy Publix brand, but there are some things that I am such a food snob about! I have been a loyal
Prego
meat sauce customer for at least a decade. It has been my favorite and the only change I would ever make is to occasionally buy
Newman's Own
Sockarooni sauce...
...that is, until last week when Mario Batali's sauce went on sale at Publix. The second I opened the jar I could tell this was no regular jarred sauce. This was your grandmother's sauce...fresh tomatoes, not canned! The smell...divine...the taste...oh my goodness! I have officially become a pasta sauce snob! Yes, it costs more, but at about $5 a jar, it's not going to break the bank. It is worth every bite! My favorite so far is the Marinara. We did not like the Arrabiata because it was WAY too spicy.
Look at the ingredients:
San Marzano Imported Italian Plum Tomatoes, Fresh Onions, Extra Virgin Olive Oil, Fresh Carrots, Fresh Garlic, Sea Salt, Fresh Italian Parsley, Fresh Thyme.
That is it!!
All natural, no paste, puree or added sugar
Made with Imported San Marzano Tomatoes
No Preservatives
Fresh garlic, onions and herbs
Disclaimer- I was not paid or given product in any way for this post. Molte Mario has no clue who I am. This is just me gushing over a product I am now hopelessly addicted to. If you find me with a jar of this stuff and a straw, please don't judge. It's just that delicious! Thank you, Mario...thank you!